ABOUT US :
The school has an extremely child-centered and child friendly ambience. At THE DRL Memorial Academy, there is a belief that every student can achieve excellence in an atmosphere that is both encouraging and challenging. The school offers students the best resources and facilities along with the efficiency and vibrancy of an experienced teaching staff. By instilling perennial values, we create opportunities for students to develop their full, all-round potential. Our high standards and academic excellence groom our students to be responsible world citizens THE DRL Memorial Academy offers classes for both girls and boys starting from Pre Nursery to Grade 8. THE DRL Memorial Academy is an ENGLISH Medium school based on CBSE standards. Education at THE DRL Memorial Academy transcends the confines of the classroom walls and the pages of the textbook. "Learning" is a joyous process where the teacher and the students are partners at every step.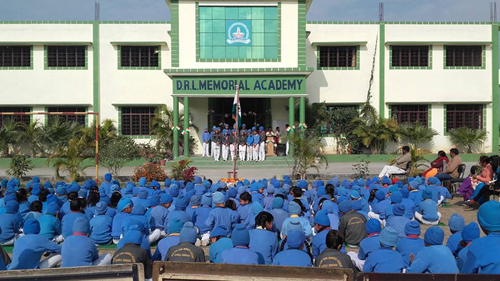 EXPERIENTIAL LEARNING –
At the conceptual level, the school is committed to Experiential Learning, Instead of learning being teacher led delivery of knowledge, the teacher & student together construct knowledge, so as more is left out of this creative & exciting experience. We strive to faster an appreciation of human creative skills; to stimulate intellectual curiosity; to develop the process of learning how to encourage clear thinking and develop the capacity to face problems, Activity based method of teaching is followed. The school follows the cce pattern laid down by CBSE.
CONTINUOUS COMPREHENSIVE CUMULATIVE EVALUTION-
Progress of each child is monitored and pupil's performance is communicated to parents, periodically. Parent's teacher meeting is one of the regular feature of our system. The performance of the student is assessed continuously throughout the academic session. A series of tests, assignments and project work is given and evaluated in all classes. Their progress is also monitored and recorded at the end of each term by the means of units tests, half-yearly and final examinations.
VALUE BASED LEARNING -
The school begin the day with Morning Prayer in the school assembly. Acknowledging achievers and appreciating point in the lives of national and global leader for their initiative, individual sacrifice for a cause, these are recurrent feature in the school day to day morning program. All the presentations are done in English, emphasizing on correct diction & pronunciation. Student are motivated & trained to come on the stage & present their piece of work in the morning prayers.